Tyche blurs the line between multimedia and movement while exploring the infinite possibilities that lie between the roll of the die. Delving into chance, this work creates different perspectives depending on how the varied elements align.
Designed to be performed in an intimate setting, the projections and the live performer meld as one complete image, as the work delves into varied facets of life. Sacred ritual, obsession with image and the inner creative emerge through the alternating combinations of projection, movement and music.
Tyche was presented as part of the triple bill, Three Steps Towards, for the Sydney Fringe in 2010. Included in the triple bill was Erase by Cloé Fournier (which has now been developed into a full length work Dining [UNS] - Table) and Remove Darkness by Tanya Voges.
Nominated for two Sydney Fringe Awards:
Bytecraft Exceptional Achievement in Production and Design Award
Avant Card - Bodies in Space Award
Tyche was first presented at Eramboo in 2009 as part of a double bill featuring dance films by artist Tamara Gulic.
this work has been performed from 2009 - 2012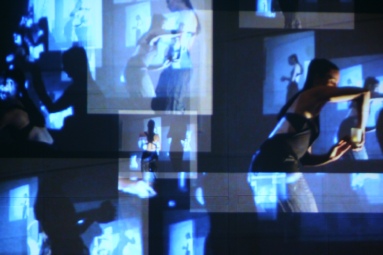 FRAMEWORKS 2011 / Manly Art Gallery and Museum